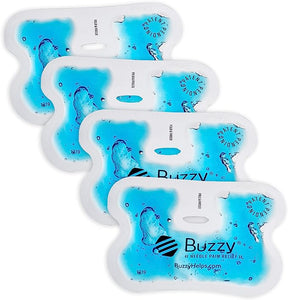 These ice wings have a soft less-intense side and a colder blue side. You can choose the intensity that suits you best. Most people like to have multiple ice wings so there is always one ready to use with their Buzzy. 
Not for Multi-Patient Use. See Healthcare Grade Ice Wings for Multi-Patient Option.
Includes
Four (4) pk Personal Use Soft-Sided Wing 
Product Features
Specifications
Additional Information
Product Features
Ice wings freeze solid so that they don't absorb any vibration from the Buzzy M-Stim device. When frozen, each ice wing will remain frozen solid for about 10 minutes.
Specifications
Work with either Healthcare or Personal Buzzy Mini and Buzzy XL
Additional Information
Item Number / SKU: Four Wing REP-4Wing