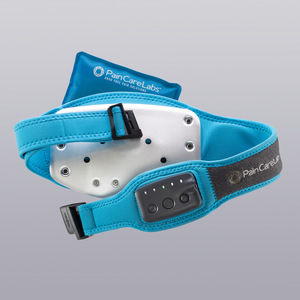 DuoTherm is a Wearable Thermal Vibrating Device. Customize your multi-modal compression comfort with eight noninvasive neuromodulation therapy cycles, acupressure, and soothing heat or anti-inflammatory cold.
Slim and discreet enough to wear unnoticed under clothing. Comfortable enough to wear all day, in the car, or on a flight!
Two hour battery life after charging; 20-minute therapy cycle memory function reactivates with one-touch simplicity.  

Features
Harmonic mechanical stimulation motor array
LED 5-level intensity display
Haptic touch control panel
Includes
Magnetic charging cable

53.5 inch adjust-once neoprene belt
Magnetic slip-lock buckle for accessible, easy on-off
Reusable thermal clay pack to freeze or heat
Contoured aluminum plate
Travel bag
Optional trigger point acupressure nubs for acute injury
This product is not yet available in retail. Not eligible for HSA/FSA.
Very Limited Availability on a Compassionate Use Basis. Contact us at Support@PainCareLabs.com
Here is how to use DuoTherm.
Product Features
Specifications
Additional Information