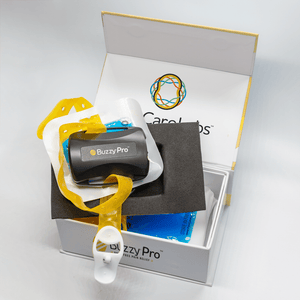 Great for dialysis, for use with a standard tourniquet for adult blood draw procedures, or PRP/ultrasound-guided injections.
Buzzy Pro includes:

1 M-Stim® unit with continuous high-frequency vibration

5 larger rectangular single patient ice packs

reversible for patient preference of more or less cold

2 Latex-free TPE Starter Straps
We've heard your requests for an adult model with single-patient ice packs. Buzzy Pro is ideal for blood donation centers, dialysis clinics, and other long venipuncture procedures.
Product Features
Specifications
Additional Information