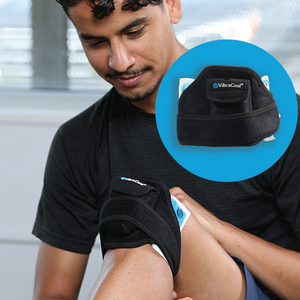 The VibraCool Extended treats knee and leg pain from muscle tension and muscle restriction. CryoVibration is ideal for jumper's knee, IT band, ankle pain, and even calf or hamstring restriction. Safe with pacemakers and portable, 20 minutes of VibraCool therapy gives instant relief from overuse or injury that can last hours! 

Includes

28" neoprene compression strap
M-Stim unit
2 AAA Batteries (preinstalled in unit)
2 Reusable ice packs with 4 chambers
1 Instruction Manual
Product Features
Specifications
Additional Information
Product Features
Unique freeze-solid ice packs with two intensity options, 100+ uses.
Patented M-Stim mechanical stimulation and ice technology blocks pain on contact.
Fits easily on knee, ankle or hamstring.
Battery powered so you aren't plugged into a wall!
FDA registered 510(k) cleared to treat pain from muscle tension and muscle restriction
FSA / HSA eligible
Specifications
Latex-free
Neoprene strap can be hand-washed and dried.
To use with creams or multiple-patients, we recommend Topical Treatment Sleeves. Do not use ice with cooling gels or those with Menthol.
Additional Information
Item Number / SKU: VC-K